Hola lovelies &

w

elcome to

w

eek 25 of the Wednesday Fresh Foods Link

Up!
I was having a conversation with someone the other day about how frustrated I've been trying to find good, whole, locally organic & seasonal food in the greater Toronto area. It's either organic OR it's local. It's seasonal, but seasonal WHERE? Pastured meat has not been too difficult to get a hold of – but if all the local produce is being sprayed, what's to say the

grass

the cows are feeding on

isn't? Ac

k! 
The point though, is this: Maybe living here, without real food, is a good thing. Hear me out. Living on Vancouver Island was a smorgasbord of happy food. You couldn't walk more than 2 blocks without discovering a farmer's market or pocket market or someone's front or backyard garden growing their own vegetables. In the neighborhood I lived in, it wasn't a rare thing to hear the cluck of backyard chickens.

 
But honey – I was preaching to the choir there. Of course we ate well – it was the hippy-dippy-West coast-way

. And I relished it. 

But here, outside our little island bubble, is where the work needs to be done. It's one thing to say we need to make good food accessible to all when it's all we know. It's another to delve into a place where it isn't readily ava

ilable and have to make it so. 
Unfortunately there are no highlights from last week due to my busy week. But everyone linked up some pretty amazing posts! I can't believe how cleverly and talented you all are. Oh wait. Yes I can. 
This link-up is to encourage fresh food production, consumption, activism, and awareness.
Please feel free to link up posts containing:
CSA collections;

Farmer's market treasures;

Home grown/raised hauls;

Recipes that feature fresh fruits and veggies that are seasonal to your area or feature local, sustainably farmed meats, eggs, and dairy;

DIY projects and tutorials for: gardening, storing and/or preserving fresh, real foods, composting market scraps, raising chickens in your back yard, etc;

Tips for local eating such as: tips for CSA members, how to find out what's in season, how to make the most of your local produce, how to raise chickens, etc…

You may link up to 3 posts in a given week that you haven't shared here before by using the linky tool at the bottom of this post. Feel free to click on any of the linked up posts and say hello by leaving a comment for your fellow fresh food communitarians and/or leave one here to tell us what you've shared – because we know how much we all love comments!
If you don't have a blog but would still like to contribute to the link up, throw me an email and we'll work something out.
And lastly, please include a simple text link back to this blog hop (the post, not the blog's main page) in the post(s) you link up or add a button: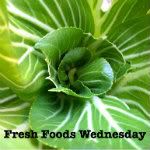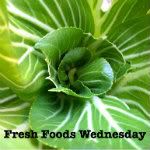 I want this blog hop to feature you as well as help each other come together to form a resource of good food ways for one another. In order to be featured on the weekly highlights – which includes a highlight on your post here the following week as well as
tweets
,
facebook page
"like" and posting, and being added to the
Fresh Foods pinterest board
– you must have a text link back or button displayed in your post or on your blog.
If you don't link back to this post I can't feature you
.
Don't forget that you can become my friend via GFC by joining this site on the right side bar, and/or find me on
twitter
,
facebook
,
Pinterest
, and my sister site,
Taste Buds
.
If you have any questions about the link up in general, please email me via freshfoodsbloghop (at) gmail (dot) com.